Welcome to the first installment of "Furniture Fridays". Today will be all about side cabinets (how exciting!..No, really!). The functionality certainly hasn't changed, but the styling has, and here is a short history. Enjoy!
"Arts and Crafts"
1880 - 1910
The "arts and crafts" movement originated in England as a revolt against the lack of craftmanship in the mid 19th Century. It was instigated by the artist William Morris, who encouraged the arts and crafts style, and the "Do-It-Yourself" approach. Here we have a cabinet which is the epitome of DIY "Arts and Craft" Furniture of the time, such as the intricate carving, ornate doors and filigree handles. This is a very ornate piece, showing a great amount of skill.
This is more common of the era, popular in America due to the simple styling and pure functionality, allowing it to be cheap to produce with lesser skill to more ornate pieces and so being more accessible to those setting up life in America at the turn of the century.
"Art Deco"
1920 - 1930
The 1920s where all about Art Deco, this style found it's way into every aspect of life; from Arcitecture, motor vehicles, fashion, jewellery, tailoring, and of course, furniture. Originating in France, with a strong link to new aviation styles and the "Streamline" theory.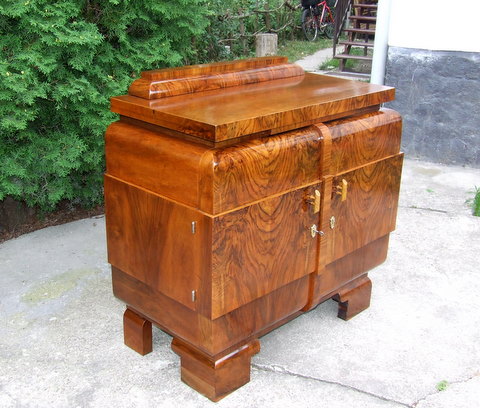 The curves and freeflowing lines are indicative of this style, carried through from the early 1920s up until the end of the 30s.
"Modern"
1940 - 1950
Here is an Italian Walnut take on the "Modern" style which evolved from the streamline nature of the 20s and 30s, later leading to the well recognised straight lines of the 60s. During WWII, old furniture styles were recycled for the war effort and so furniture was being made from different materials, aluminium, rubber and fiberglass being the most common, but here is a very luxurious version with original Italian Marquetry.
"G-Plan"
During the booming recovery after WW11, simple modern styles took hold and were the height of fashion, even today "G-Plan" furniture is very desirable due to its easy retro styling. Add such a piece to your living space, and instantly you get a fab vintage feel.
I absolutely love G-Plan furniture, so, here, I will leave you with some of my favourite pieces, Enjoy!